CharmBreeds
TM

Jewellery
---

This is a completely new concept in Cat and Dog Jewellery design... wonderful gifts that represent your cat and dog's breed and its coat colour!
The coat colour of your animal is represented by carefully chosen semi-precious gemstone beads, sourced from around the world.  Each bead is created from natural stone, and features its own variance in patterns and colours, so each bead is totally unique. This therefore makes every piece of CharmBreedTM Jewellery completely individual.
The CharmBreed Jewellery range - bracelets and necklaces - features:-
| | |
| --- | --- |
| Dog breeds & their coat colours | Cat breeds and their coat colours |
| A dog charm representing the breed of dog and gemstone beads representing the colour of the coat. | A cat charm representing the type of cat (Longhair, Shorthair, Oriental or British) and gemstomes representing the colour of the coat. |
| | |
---
The CharmBreeds
TM

Concept

Each piece of CharmBreeds Jewellery comes gift boxed and presented as shown in the following example - which shows the Siamese Cat Bracelet, in the gift box, with the inside of the box lid, showing the description of the gemstome beads used.

ALL CharmBreedsTM are packaged and presented in the same way - the gift box and the description of the gemstomes used inside the lid.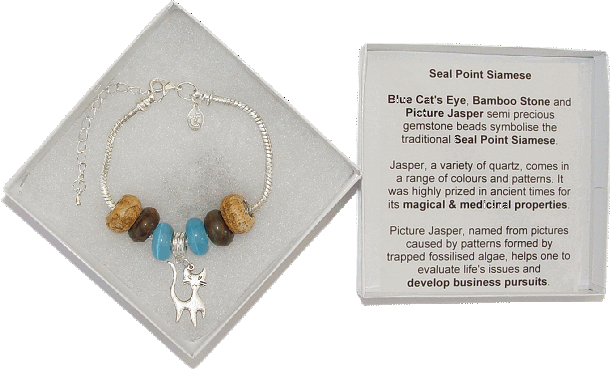 The whole presentation of CharmBreedsTM jewellery makes it an ideal gift for any dog or cat owner/lover/enthusiast... or why not just treat yourself?
---
Charmbreeds jewellery : coat colours : dog breeds : CharmBreeds